One common factor between Commercial and Residential Roofing is the money you are investing today in a higher quality roof system will save you repairs and earlier replacement down the road. Flat Roof works the same way.
      In your research for a commercial roof system, pay attention to the warranty length. It is a great indicator on the quality of the product. Ponderosa Roofing will happily clarify your decision making process, we only install products offering high quality materials with competitive pricing. Is the warranty covering the next owner in a situation where you decide to sell your business? It is definitely making it a plus when you can transfer the warranty to the next owner. Your property has a stronger value on the market.
      In a climate as hot as the Kelowna region, the colour of the material makes an impact, a light coloured gravel will affect your energy bill in the summer over a few hundred dollars. Some reflective coating can additionally reduces energy cost by reflecting the heat away.
     In such a huge industry, there is plenty of code requirements, we are well aware of them and will be happy to explain them to you to clarify what's needed.
     Nowadays, most commercial roofing systems are called low slope and they are made of three major components. The first and most important one is the weatherproofing layers, naturally it helps protecting your building from water and melting snow leaking in. The second one is reinforcement, its designed to remain puncture-free, add strength, and provide dimensional stability to the multiple layers of the system. The third will be surfacing, it has the purpose to protect the first two mentioned above from sunlight and weather, It can also increase fire resistance, hail protection, and additional solar reflectivity. Ponderosa Roofing always has the solution.
Request A Free Instant Quote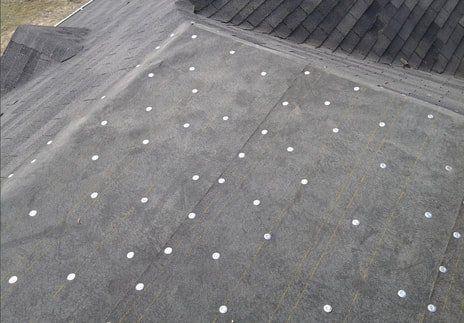 What Are The Types Of Commercial Roofing?
There are several types of commercial roofing systems. Let's look at a few.
        BUR (Built Up Roofing) system : multiple layers of base sheets, interply sheets, cap sheets, and other such as gravel or liquid coating. The more layers the better. Hot bitumen is laid between each layers rendering the system more weatherproof. BUR is suitable for most slow slope system. 
National Roofing Contractors Association defines flat roof as a slope less than 3 inches or 10 degrees. They are common for commerces and can be used partially as living space. 
      As the regular housing roof, there is an equally wide variation of options to cover your commerce when it comes to flat roof. Different products come at different pricing, different lifespan, ease of maintenance, and your budget is a factor. We can surely help you making the right decision.
      One very popular option today is a PVC. It's slightly pricier but the solidity of the reinforced membrane material is greater than the singly ply-roof that has a shorter lifespan. It's on of the best choice on the market as it comes with a low maintenance factor and longer life. Its white color will also substantially lower the energy bill.
        Metal flat roof is the ideal choice when the slope is greater than 2 inches. Its life span will likely be 10 years more than PVC or PTO. Durability is the greatest factor for this roof although it can be susceptible to leaks around the seams and edges. It requires skilled roofers and the material makes this option pricier.
      Since its inception, TPO (thermoplastic polyolefin) has been one of the best option for commerces. Although called plastic, it is actually not a plastic, it's made of a blend of polypropylene and ethylene-propylene rubber. The product is extremely easy to install. The white coat helps businesses reducing their energy bill and seams are heat welded preventing any leaks. Its lifespan reaches between 10 and 20 years, which is similar to a PVC roof.
       A finance driven option is a modified bitumen roof. The base of the roof is made of an asphalt membrane, it is more prone to breaking and blistering over time and its lifespan is between 10 and 15 years.
         Ponderosa Roofing will evaluate for you the benefits, risk and cost of a new roof or could proceed to repairs that will delay the installation of a new roof of a few years if it is the ideal solutions for your business. 
Fixing a Leak On your Flat Roof
Are you tempted to fix your flat roof yourself? Hiring a pro will likely put a definite end to your problem. No matter what is your decision, less than top Quality Roof Repair material is not an option. The difficulty is to find where your leak starts and it's not necessarily where you observe the leak inside, the water can travel before reaching its exit point. 
        Most flat roof are sloped, so start looking higher up to locate the leak. Look for puncture, curled shingles, imperfections, popping screws and membrane separation.