Keeping your gutters clean is an incredibly important part of home and building MAINTENANCE. But who really has the time to go up on the roof and clean out their gutter guards, downspout, and eavestrough? This is where we come in. At Ponderosa Roofing, we are fully qualified and trained in maintaining gutters and will make sure yours are clean and working properly. Gutter maintenance and cleaning are very important if you don't want further issues in the future, including leaks and water damage. 
     We also do gutter reparation. If your gutter is not in working condition and needs to be repaired, our team is up for the job. Or, if you need to replace your gutter, inquire about our K-Style upgrade if you constantly have annoying leaves in your gutter. These gutters are made with high-grade aluminum and are the best on the market. They will fit in seamlessly and no one will ever know that you had your gutters replaced. Aluminum gutters are lightweight and don't corrode. It is also easy to paint which is another reason for their popularity. Or, if you are looking for something with a little less maintenance, try our copper gutters out. They don't need to be repainted every two years like many other types of gutters. 
Gutter Installation Kelowna, BC
Contact us today for a free estimate on the cleaning or installation of your gutters and let us get started. A dirty, clogged gutter can lead to a number of problems if left that way. Eventually, the rain water will overflow which can lead to leaks and further issues. You shouldn't wait. Contact us today to prevent any future damage. Ponderosa Roofing has you covered. Let us clean or install your rain gutters while you worry about the rest of your day. We've got you covered. Anything gutters, downspouts, and eavestroughs, we know it and we will take care of it.
Request A Free Instant Quote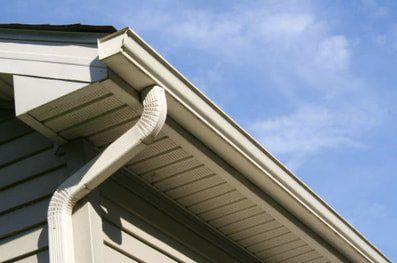 How to Clean your Gutters and Downspouts
You've decided to clean your gutters and downspouts, one major preventive solution is definitely installing a gutter guard. It stops all debris from entering the channel and going down the eavestroughs. It's a very inexpensive way that a weekend warrior can do on his spare time, it requires little tools, a simple drill, and the material can easily be purchased at Home Depot or other hardware stores.
       Once your gutters are cleaned, next step is to unclog your downspouts. Simply insert your hose aiming upward from the bottom and if there was debris it should be coming out slowly. Worst case scenario, disconnect from the rain gutter and clear with a long stick. You may also rent a gutter cleaning kit and use it from the ground, it has a long reach so it doesn't require a ladder or possibly buy a kit that attaches to your shop-vac. It may not be as performant. 
A more efficient was is do get up the ladder, make sure it's solidly grounded on its small rests, have a spotter, and scoop all the leaves, moss and other debris and wash up with the hose. Dress with a long sleeve and watch for the curled aluminum on the corners of those gutters, they can make a nasty cut on your skin. Overall, it's a fairly simple task that should be perform at least every other year in the spring especially if you are leaving near tall trees as we have in British Columbia. Skipping years can lead to leaks in the foundation and ice dams in the winter damaging your gutter and roof.