If you are having issues with your roofing, whether it be a leak or something more serious, Ponderosa Roofing has got you covered. We are able to take care of all of your roofing needs, from small repairs to entire roof restorations, we've got you covered. Our highly qualified professionals are expertly trained in all areas of roofing and are guaranteed to take care of all of your roofing needs. 
       We offer specialized roofing services in the Ponderosa area that includes all repairs, restoration, commercial roofing, and more. We know how much of a headache it can be dealing with roofing problems, and we are here to help. We will send our expertly trained team out to your home or business to take a look at what you've got and give you an estimate before getting started. Having roof issues is a pain that we want to help ease for you.
       If you are experiencing any leaking or other issues with your roofing, Ponderosa Roofing will guarantee a quick and effective fix, whether for residential or commercial buildings. Our team is knowledgeable and qualified and is guaranteed to help you with your roofing issues. We know how much you've got going on, so why not let the professionals take care of this? We can determine if a simple primer and adhesive or a specially designed glue can do the trick. You may need to replace only a few shingles or having a bigger decision in your hand.
       Contact Ponderosa Roofing today for a free estimate and let our professional team of experts take care of your roofing problems. Our expert services are extensive and our knowledge runs deep. We know you will be satisfied with our work. Why try and deal with it on your own? Let us help you get your roof back into working shape quickly and efficiently. Don't wait another day to fix your roofing issues. Call us today.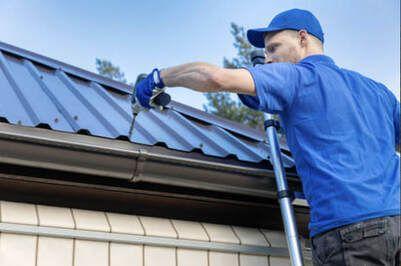 Should I replace or repair my roof?
There is the big question. Many elements are to be considered. How old is your roof? How much damage there is? Are you in the process to sell your house? 
          A roof should be lasting at least 15 years and more if it's made of metal or tile. If the damage are minors, small repairs maybe worth it. A repair would set you back at least a few hundred dollars and as much as one or two thousands or more. The entire cost of replacing a roof is on average 7500$ and it depends on size, quality, and types of material. Replacing your roof would also increase the value of your property and make it an easier sell by increasing the value of more than 15%. It also decreases you home insurance and make you save overtime. So, many factors are to be considered. At some point, it will have to be replaced or keep spending your money for more repairs. Possibly, a home owner can do it himself, some might think you can fix a leak from the inside and that is impossible, it will only redirect the water flow to other parts. Look for the source of the leak and try applying some high quality sealant, it might be ok for a while until it requires the work of professionals.
         Consider longer lasting material on your next purchase, it will simply save you down the road. High quality work and materials are always the best options when it comes to your house.
         Regardless of the repair, if you require an emergency roof repair, contact us and we will communicate how fast we can come to your service.